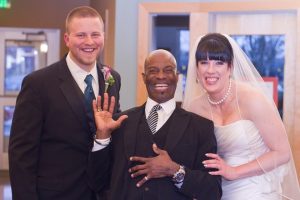 We understand that this is your special day and our talented team is dedicated to making sure that it is everything you ever dreamed it would be. We want to assist you in any way that we can to make your dreams become a reality.
Whether your cherished day will take place in a backyard, on the beach, at a large hotel or in a sacred space, Party Doctor can provide what you need to create the wonderful memories that will last a lifetime.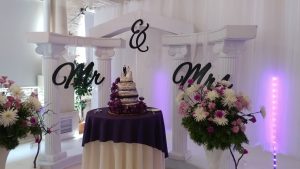 Not only can we provide the music, the sound equipment and the lighting & decor for your ceremony and celebration, but we also provide a professional Master of Ceremonies who will engage, energize and entertain your guests of all ages.
We would love to help you in planning your wedding! We hope that you will read our FAQs for more information and then contact us to check availability for your date.
When I first experienced a party with The Party Doctor… I knew that whenever I had my wedding, the priority of the whole event would be our DJ. When I told my family that I hired The Party Doctor for our backyard wedding, their first response was "Why would you spend money for a dj?". I always answered, "It's not JUST a dj. Wait and see, it's going to be awesome!"

The crowd of middle age men, all from small towns, working in construction had no intention of even walking out onto the dance floor. By the end of the night, one of my groom's friends of 25 years was out there having a blast. In 25 years, Bill had never seen that man dance. The costume changes were incredible! It was entertaining, engaging, and downright perfect! Doc has a genuine gift with reading people.

For the couple of days since the event, we've had so many compliments! "One of the best parties I've ever been too!". "That DJ was awesome!". "Do you think we could get him to do our event?". "Now I see why you hired The Party Doc, you weren't lying when you said it would be epic!"

In my opinion, if you want to have the best experience- there's only one choice!
~ Shannon M.